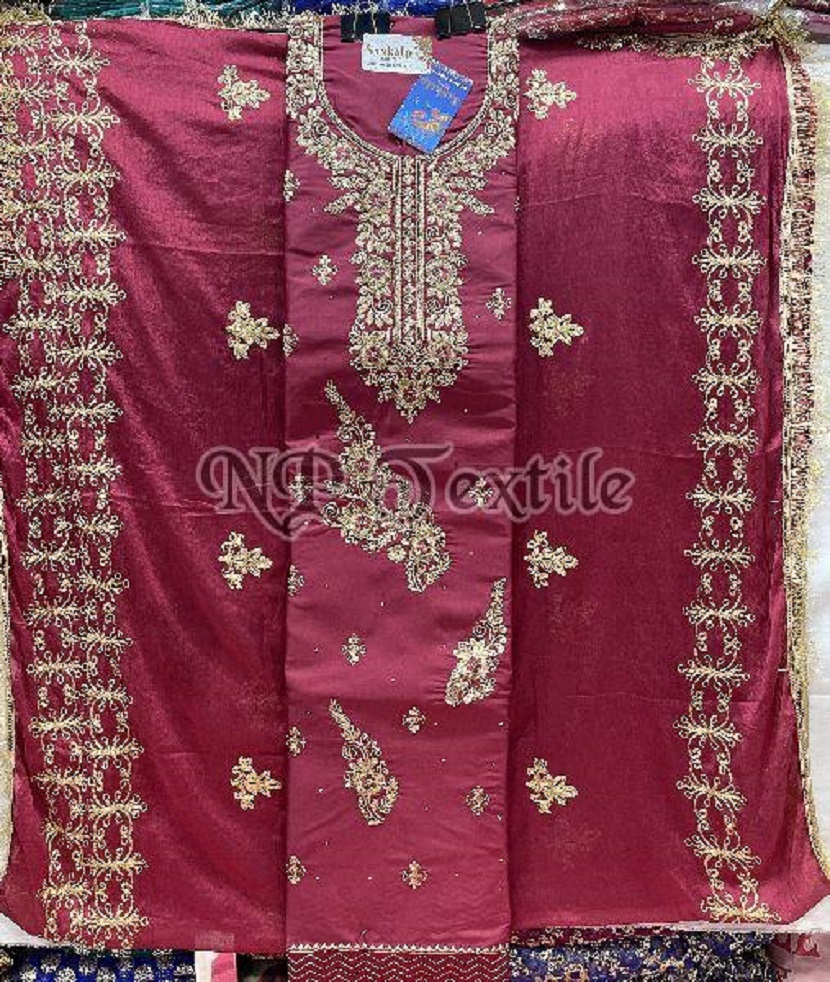 Jam Cotton is a type of Fabric. These cotton are fancily embroidered and printed. Jam cotton suits are inclusive of dupatta, bottom, and kurta are exported from India in bulk to various foreign countries. Importers import it in bulk to sell it to retailers in their country to further sell it to customers who love to buy Indian Jam Cotton Suits. In this article, you will come to know more about Jam Cotton suits.
Types of Occasion Jam Cotton Suits Worn
These suits are highly acknowledged for their superior finish & appealing look, the jam cotton fabric is suitable to wear at various small parties, functions, meetings, etc. The offered jam cotton fabric suits are checked at our end in various parameters for dispatching a defect-free range to customers internationally.
NP Textile is one of the renowned Manufacturers, Exporters of Embroidered and Designer Jam Cotton Dress Materials with varieties inclusive of attractive patterns and handwork.
How are Jam Cotton Suits Manufactured
These suits are made out of fabric that is designed using the best grade of yarns & threads by the market standards with beautiful patterns, trending captivating designs, vivacious colours, and are shrink resistant.
Benefits of Wearing Jam Cotton Cloth
Moisture Control
Jam Cotton fabric clothes are breathable and transmit moisture away from the body and are absorbent and remove liquid from the skin, like a towel, according to Cotton Incorporated. Jam Cotton fabrics allow you to remain comfortable as you exercise, keeping moisture from building up between your skin and clothing.
Insulation
Jam Cotton fabric clothing protects against heat in the summer and cold in the winter by providing thermal insulation as the jam cotton fabric traps air between the fabric fibres. The fibres in clothing hold the fabric away from the skin, further allowing for more air to be trapped between the skin and fabric which helps with insulation and comfort.
Hypoallergenic
Jam Cotton fabric rarely causes allergic reactions and wearing cotton is often recommended for those with skin allergies, notes Cotton Incorporated. Because jam cotton is hypoallergenic and does not irritate the skin, it is used in medical products like bandages and gauze and is the fabric of choice when it comes to baby clothing.
Weatherproof
Jam Cotton fabrics can easily be manufactured into weather-resistant garments through the construction and finishing of the fabric. For example, jam cotton can be made into a tight, dense fabric with a weather-repellent finish to make weather-resistant clothing, yet the cotton fabric retains its comfort and breathability.
Comfort
Jam Cotton clothing is soft and easily stretches, making it a comfortable fabric to wear. Because of its softness and comfort, it is often used in underwear and undershirts, following the International Forum for Cotton Promotion.
Durability
Jam Cotton has high tensile strength, making it strong, durable and less likely to rip or tear. It is 30 per cent stronger when wet, and resists numerous washings in hot water.
Factors to be kept in mind before buying a top Quality Fabric
1. Fibre
Scrap the good and bad fibres division altogether. From the outlook of producing garments or textile products, every single kind of material has its unique benefits and limitation. Polyester, although not a substantial option for the summer wardrobe, is the only fibre that is utilised in dye-sublimation.
Fabrics from cellulose fibres, e. g. viscose or lyocell can be different to synthetic fibres but in the process of fabric printing, they can be quite a problematic fabric, that requires a special post treatment for pigments to stick properly.
2. Country of origin
The textile market is controlled by leaders, that produce the highest quantities on a global scale. Till the late '80s, the Soviet Union was in the lead in global textile production. In 2002 China took the lead, and they remain the biggest textile producer with an evaluated share of 726 billion dollars in the year 2017.
Of course, the above data does not mean that fabrics obtainable on the market are provided solely by leading producers. However, it will be much more effortless to discover polyester that was in China rather than in any other country with a smaller production rate. Country of origin can play an enormous role in your marketing strategies – if local patriotism is the main part of your brand's identity you won't be using fabrics made in Italy or India.